November 22, 2017 read full Fastcodesign article here
The Bay Area is one of the most scenic, desirable regions in the country, but the very things that make it beautiful also pose the greatest risks to inhabitants. Sea levels in the region will rise an estimated 3.4 feet by 2100. Scientists predict chronic inundation and flooding in areas near the shoreline. Earthquakes shaped the bay's rolling hillsides and mountains, and the specter of the next "Big One" looms large. The area's natural ecosystems face myriad negative impacts stemming from development and pollution, too.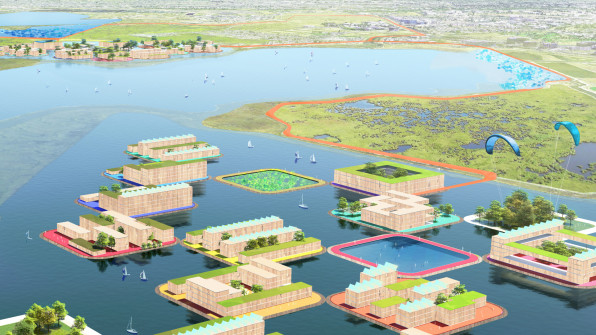 Resilient by Design asks experts to envision how the region should adapt. The 10 design super-teams are diverse, including internationally renowned architecture and engineering firms, MacArthur Foundation fellows, local landscape architects, Ivy League research groups, National Design Award winners, and more. Each team independently investigated the social and ecological vulnerabilities in the Bay Area and designed solutions addressing the core challenges of sea level rise, flooding, ecological health, and social enrichment, but focused on different problematic sites around the bay region. As a result they each created dramatically different solutions–everything from autonomous vehicle infrastructure to a new Transbay tube to artificial wetlands….
See some of the design ideas here
Read more about SF Bay Resilient by Design here.